## What is XML and How to Use It
## What is XML XML stands for eXtensible Markup Language and it is a specific technology or tool designed to allow us to semantically describe a text, document, or any kind of structured information.
## Advantages of XML 1. It is a well established technology with a long history 2. It is well supported. 3. It is system independent.
XML semantically identifies pieces of data using opening and closing tags which are enclosed with angle brackets.
<div>
This is a division
</div>
<div>
This is a paragraph
</div>
Tags cannot be cross-nested.
wrong
<div>
Overlap is
<emphasis>
not allowed!
</div>
</emphasis>
correct
<div>
This is
<emphasis>
correct
</emphasis>
</div>
Tags must be either siblings of another set of tags or children of a set of tags.
In XML talk, all tags are called 'elements'
In Aristotle talk, elements are like subjects that can take on differentiating accidents.
In addition to containing text and other elements, elements can take on "attributes".
<quote

type="paraphrase"

>
This a paraphrased quotation
</quote>
<div

type="articulus"

>
This is an article division
</div>
All elements must be contained inside one Root Element
The result of following these rules is a document whose content is nicely organized into a tree structure.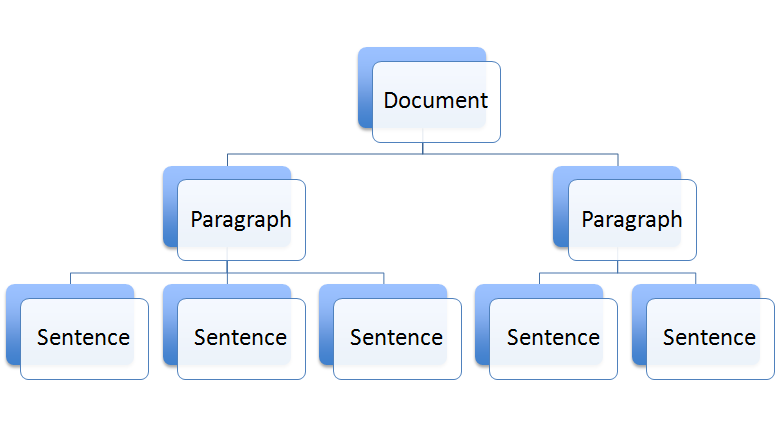 Activity
Use Oxygen to begin encoding our sample texts
To start a new file, open oxygen, select file->new, select "xml document"
Then start encoding. Remember you can create your own tags to describe your data. Just follow these basic rules: https://www.w3schools.com/xml/xml_syntax.asp
## What Is TEI and Why Do We Need It?
Question: Where do the element and attribute names come from?
How do we know what elements or attributes we can use?
The X in XML stands for eXtensible
This means that XML actually does not specify any set of tags or element names. Anyone can make up their own set of elements and use them however they like.
Extensibility provides a lot flexibility
It allows different industries and fields to create tags that meet their needs and their data.
Extensibility can also cause confusion
If everyone can just make up their own tags, we can create confusion about what different tags mean and the datatypes they are encoding.
Someone might choose to tag something as <paragraph> and another person might choose to tag something as <para> and a third person might choose <p>.
How do we avoid this confusion?
Enter TEI
TEI: a predefined set of elements designed by and for humanities scholars and textual editors
The Core Structure of the TEI Header
See: http://teibyexample.org/modules/TBED02v00.htm
<teiHeader>
<fileDesc>
<titleStmt>
<title>
Title of Document
</title>
</titleStmt>
<publicationStmt>
<p>
Simple statement about publisher here
</p>
</publicationStmt>
<sourceDesc>
<p>
Description of source being represented in tei
</p>
</sourceDesc>
</fileDesc>
</teiHeader>